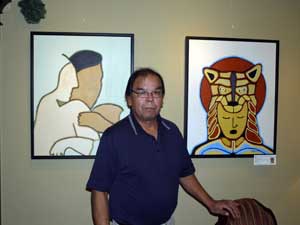 Our Mission Statement
F/P Creative Solutions is dedicated to offering you optimal solution(s) in graphic design and output solutions by minimizing the cost to you while maximizing our printing quality and reduction turnaround time. Generally speaking, if you think you don't have enough volume to justify the high setup cost of silkscreening, printing and graphic design - we've got the solution(s) for you.
F/P Creative Solutions is celebrating its 15 anniversary while I am celebrating 25 years in the working in graphic design which I am still passionate about. I am continually up-grading my skills and products to provide new and exciting marketing or branding solutions for you and your company. When you talk to me, you are talking to the person that has the authority and responsibility to solve your problem right then and there. Gone are the days of dealing with 2 or 3 levels of management to resolve a problem.
References and Portfolio
Available on request . Please view portfolio at www.finianpaibomesai.ca
We are a 100% Owned First Nation Business.
Logo design and Identity Development

Advertising and print Collateral

Promotional Products

Signs and Decals

Website Development & Maintenance
Portfolio of completed projects
Design Experience
F/P Creative Designs is an Aboriginal Company with main goal is to give its' customers with an effective communication strategy to be recognized in the marketplace.
We are graphic designers that will give full commitment to your graphic and web requiremnts. We have been in operation since 1998. At F/P Creative Services, we make sure we know and understand our clients' business, identities, corporate insight, market position, and customer demographics. Taking these necessary steps allows us and the client to work as team so an effective communication stratategy is developed.
We are totally commitment to all projects from beginning to end. We recognize that only consistent, visible results to an enduring client relationship.
Advertising and Print Collateral
What marketing and advertising direction is taken, it will reinforce your identity and brand.
Brochure design
Advertisement design
Sell Sheets, Binders and Sales
Presentation Materials
Folders and Inserts
Reports and Covers
Post Card & Leave Behinds
Packaging, Point of Sales Displays
Plus more .... Use imagination and contact us with your idea.
Logo Design and Identity Development
Logo recognition is one of the most important segments in Company Branding and Market Strategy.
Logo development, design and illustration
Brand building and Slogan development
Business Card and Letterhead development
Stationary, Note card, Envelope Design
We offer Logo conversion from any type file to a vector file. So after you can take this vector file without jeopardizing the resolution.
Website Maintenance
Having a website that is up-to-date will get more visitors to come back to check what's new. So it is important to keep it well maintained. A well planned website can still be unsuccessful if the links are broken or if information is not updated.
We offer website maintenance in two ways to better suit your requirements.
Plan 1: Regular monthly maintenance including all written and photographic updates.
Silver: $75.00 per month (3 hours)
Gold:  $175.00 per month ( 7 hours)
Platinum: $280 per month ( 16 hours)
Yearly Contract: Available
Plan 2: Maintenance on an as-needed basis. $35.00 per hour per incident